Some of you have heard me talk on my blog about the tool I LOVE the most when it comes to Scrapbooking and paper crafting...yep, it's my Gypsy. It's like a gameboy for Crafters. If you own a Cricut, then you'll wonder how you ever lived without this tool! But even better, they have an incredible promotion going on and it ends this week!!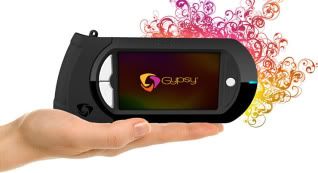 Buy and register a Gypsy by Cricut
by October 31
and receive 6 (SIX!) free cartridges downloaded to you Gypsy - including the exclusive, all-new "Smile Cards" cartridge (and don't forget about Gypsy Wanderings and Gypsy Font cartridges that come pre-loaded on the machine). It's a $419 value!!
FREE CARTRIDGES INCLUDE:
~ Smiley Cards (new and exclusive to this promotion)
~ Tags, Bags, Boxes & More (not available in retail)
~ Christmas (not available in retail)
~ Blackletter (not available in retail)
~ Printing Press (not available in retail)
~ Indie Art (not available in retail)
All current Gypsy owners are INCLUDED!! Simply register your Gypsy by October 31, 2010 and get access to all downloads. Register at http://www.cricut.com/gypsy.
Downloads will be available through a special update to your Gypsy starting November 1st!!
New Gypsy cartridge downloads are easy! Just connect your Gypsy to your computer and you'll automatically be prompted how to start. In just a few steps, you'll be able to download all six cartridges containing thousands of images! And with the Gypsy, you'll have all the cartridge artwork and keypad overlays on your Gypsy screen, so there's no actual cartridge, handbook or packaging.
Wish you had the money to buy one and aren't sure you can convince your hubby to get you one for Christmas. Well, I'm
giving away
a
Gypsy
on my blog
today only
!! Leave a comment on which Cricut cartridge is your most favorite and I'll announce a winner tomorrow on by blog!